Edwin Chirgwin was a writer and bard of Gorsedh Kernow.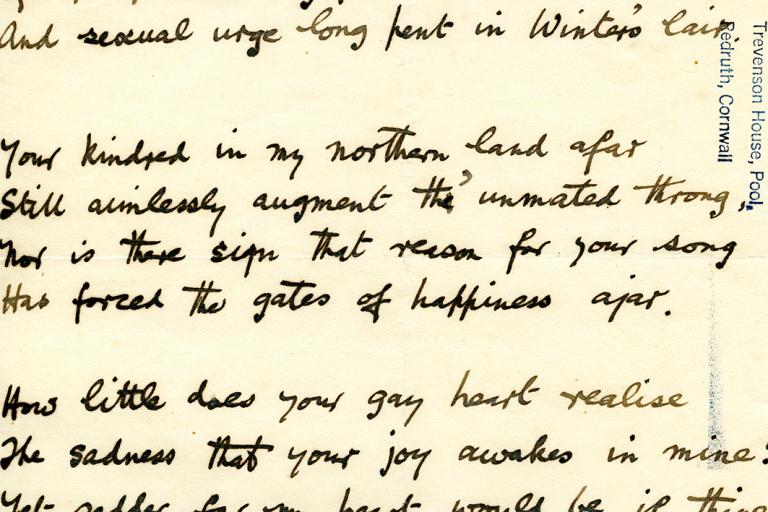 Edwin Chirgwin (1892 -1960) was a Cornish Bard and Headmaster of St Cleer School from 1926 until his retirement in 1956. During his spare time, Chirgwin indulged in his passion for the Cornish past, writing about Cornish folklore, local stories, language, poetry and historic events. A regular contributor to newspapers and publications, Chirgwin also gave lectures, produced instructive booklets on the Cornish language and translations of religious texts such as hymns and books from the bible.
This Collection includes a variety of written material in English, Cornish, and Cornish dialect, focusing on Cornish history and culture including poetry, lectures, essays, translations and stories. A further highlight of the Collection is a scrapbook of the Parish of St Cleer and the surrounding area recording places, people and landscape which includes photographs and detailed notes by Chirgwin.
This Collection has a strong appeal for those studying Cornish history, identity and place.
This Collection is fully catalogued and listed on our Archive catalogue.
Materials from this Collection are available to view by appointment with us in Archives & Special Collections, Level 0, The Exchange.
Potential users may find it beneficial to undertake preparatory research prior to a visit. Suggested resources are available at Archives & Special Collections: Introductory Reading.
For further information please contact us at archives@fxplus.ac.uk