A personal collection of published material reflecting a lifelong passion for sewing and embroidery, with unique hand-stitched covers.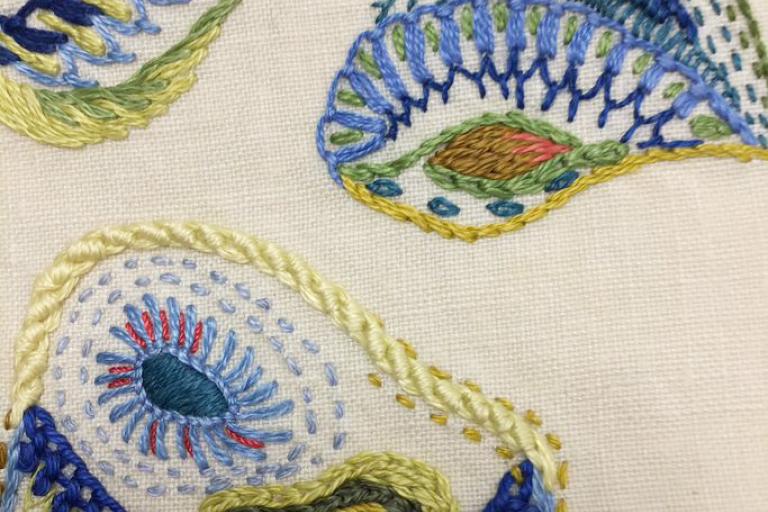 Hazel M Sims (1922 - 2016) was born in Hampstead. Sims began stitching at the age of 4½ when she watched her Aunt embroidering and pestered her to let her have a go. So began a life-long passion for stitching.
The Hazel Sims Collection comprises of over 60 books alongside individual and bound volumes of journals and booklets relating to embroidery and sewing. The majority of items have unique coverings and bindings created by Sims using fabrics, wallpaper and wrapping paper, many reflecting the period in which the titles were produced or acquired. The Collection also includes many examples of Sim's embroidery and creative work including both samples and larger pieces, along with photographs, research and preparatory materials alongside a series of diaries and correspondence which provide a personal insight into her life and creative work.
This Collection will appeal to those with a passion for textiles, in particular embroidery, but is also of interest to those looking at the use of textiles in domestic or ecclesiastical contexts.
Materials from this Collection are available to view by appointment with us in Archives & Special Collections, Level 0, The Exchange.
Cataloguing on this collection is in progress. For updates please check our Archive catalogue.
Potential users may find it beneficial to undertake preparatory research prior to a visit. Suggested resources are available at Archives & Special Collections: Introductory Reading.
For further information please contact us at archives@fxplus.ac.uk
Photo Credit: The Estate of Hazel Sims.