Records relating to Truran's involvement in Mebyon Kernow, the Political Party for Cornwall.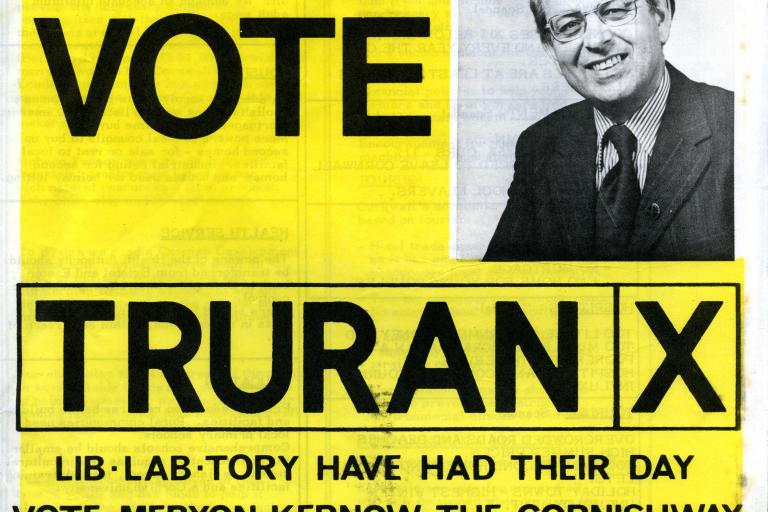 Leonard Truran (1926-1997) head teacher, political activist, publisher, and Cornish bard, was born in Redruth, Cornwall. This Collection includes political papers and records relating to Truran's role in Mebyon Kernow (MK), the Political Party for Cornwall.
The Collection largely comprises of date-specific files ranging from 1964-1980 corresponding with Truran's heaviest involvement in MK. These contain correspondence, press releases, news-clippings, newsletters, minutes alongside marketing and publicity materials and political ephemera. The Collection documents MK's campaigns and activities during this period, across a wide range of issues affecting Cornwall.
This Collection will appeal to those with an interest in Cornish history and identity or indeed the social and political issues affecting Cornwall during this period and beyond.
Materials from this Collection are available to view by appointment with us in Archives & Special Collections on Level 0 of The Exchange.
Cataloguing on this collection is in progress. For updates please check our Archive catalogue.
Potential users may find it beneficial to undertake preparatory research prior to a visit. Suggested resources are available at Archives & Special Collections: Introductory Reading.
Further records relating to both Mebyon Kernow and Len Truran are available at Kresen Kernow.
For more information please contact us at archives@fxplus.ac.uk
Photo Credit: Mebyon Kernow.