Tom Cross was a prolific artist, art historian and former Principal of Falmouth School of Art.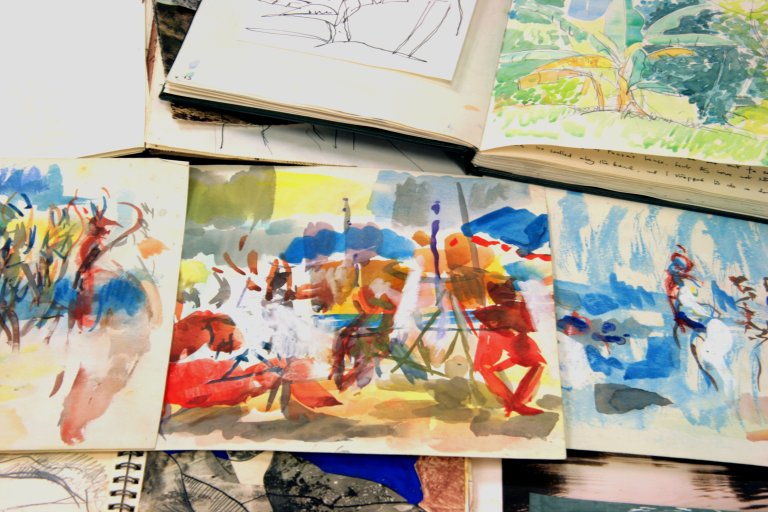 The Archive of Tom Cross, Principal of Falmouth School of Art 1976-1987 contains over 50 sketchbooks documenting the meticulous preparatory work undertaken throughout Cross's 60-year career as a painter. 
His extensive work as an art historian, (with particular interest in the St Ives and Newlyn Schools), along with his time at Falmouth School of Art and as lecturer at the University of Reading, his extensive travels and life-long interest in architecture, are also well documented.
The Archive is a wonderful resource, with the vast possibilities for use still to be fully explored.  There is much material of relevance to those interested in all aspects of art history, particularly C20th movements in Cornwall, Tom Cross's own extensive work as an artist, the history of Falmouth School of Art, as well as being of interest to those seeking inspiration for their own work.
Materials from this Collection are available to view by appointment with us in Archives & Special Collections, Level 0, The Exchange.
The Collection is fully listed on our Archive catalogue.
Potential users may find it beneficial to undertake preparatory research prior to a visit. Suggested resources are available at Archives & Special Collections: Introductory Reading.
Further information about Cross's life and work is available on the Tom Cross website and his books are available for loan via the Library catalogue.
For more information please contact us at archives@fxplus.ac.uk